Area Churches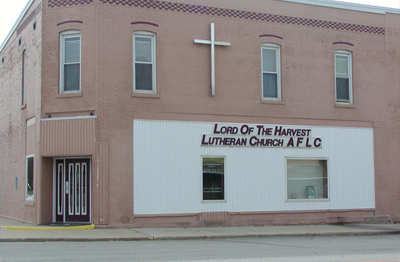 Lord of the Harvest Lutheran Church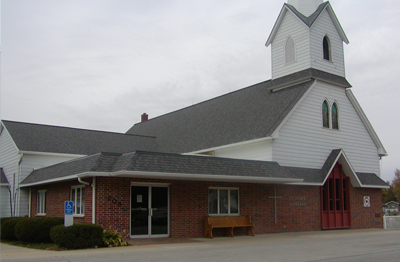 Saint John's Lutheran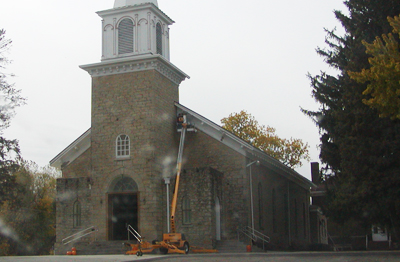 Immaculate Conception Catholic Church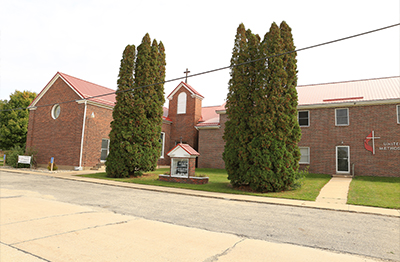 United Methodist Church
Religious Societies
Free Will Baptists
This society was organized here in 1859, with about eighteen members. Among the early ones were Deacon James Sanborn, J. A. Durham and wife, S. P. Cramer, Morrill Sanborn, E. Sanborn, Deacon Norris and wife, and Jason Nichols and wife. The present membership is forty. They have a good house of worship and an organ. The property belonging to the church, including a house and two lots on which it stands, is worth fifteen hundred dollars. The present preacher is L. D. Felt.
Presbyterian
The Presbyterian church was organized here in 1856, at what was called the Stone church, with six members, among whom were F. J. Everett, C. W. Bacon, and James Sankey and wife. The first, and present pastor, is J. D. Caldwell. There are now about fourteen members, holding services in the Methodist Episcopal church, which they assisted in building.
Evangelical Lutheran
This society was organized November 18, 1868, with twenty-seven members. The first preacher was a Mr. Buckrer. It now has a membership of between thirty and forty souls. Before the erection of their house of worship, which was in 1865, they had services in the public school-house. The present pastor is Rev. R. H. Machmueller. The society owns a house of worship, a parsonage, and an organ in the church, the whole valued at one thousand dollars. The religious services are conducted in the German language.
Roman Catholic
This church, designated as the Church of the Immaculate Conception, was organized here in about 1858, at the McCuniff school-house. Father Shields was the first priest, then the resident priest of Waverly, who was succeeded by John Gosker, the resident priest of Independence. In 1868 a large stone church was built here, ninety by forty-four feet. The first settled priest was Eugene Sullivan, who was succeeded by G. Stack. The present priest is Thomas Murtagh, who settled here in December, 1875: There are some one hundred and thirty families, and probably six hundred communicants. The parish owns a house of worship and pastoral residence-the whole property is worth not less than eight thousand dollars. In this church are represented seven different nationalities-Irish, German, French, Belgians, Polanders, Americans and Austrians.
Methodist Episcopal
A society of Methodists was organized here in 1865 with eight members, at what is called the Stone church. A house of worship was completed in the fall of 1873. They now have a membership of some forty persons, own a parsonage, a church, and an organ. The whole property is worth two thousand five hundred dollars. The present pastor is P. M. Gould. The first sermon in the township was in 1852, at the house of Alexander Stevenson, by Rev. D. Gill, of Independence.